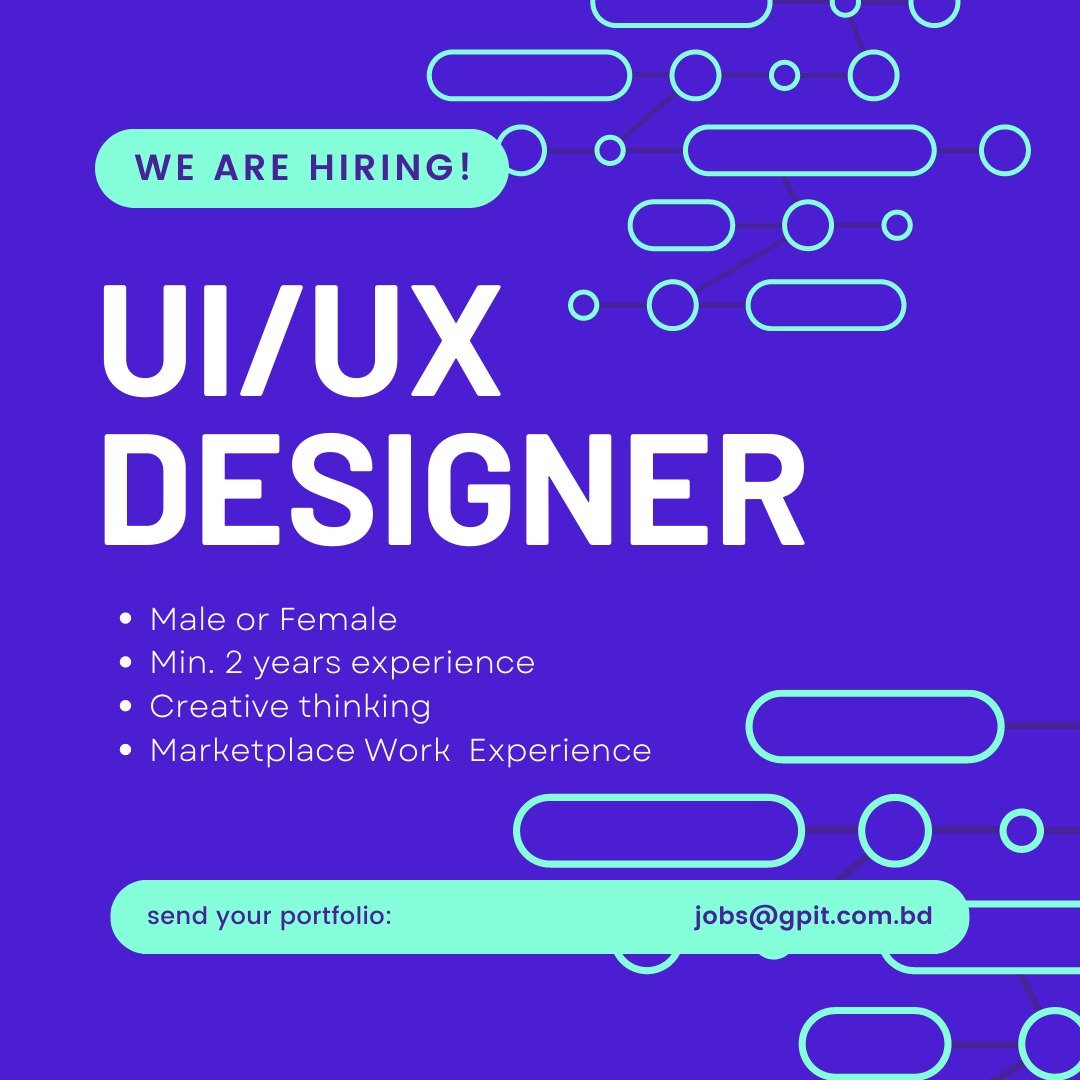 𝐖𝐞 A𝐫𝐞 H𝐢𝐫𝐢𝐧𝐠 𝐔𝐈/𝐔𝐗 𝐃𝐞𝐬𝐢𝐠𝐧𝐞𝐫 (Marketplace Sales and Support Experience)


𝐄𝐱𝐩𝐞𝐫𝐢𝐞𝐧𝐜𝐞 𝐑𝐞𝐪𝐮𝐢𝐫𝐞𝐦𝐞𝐧𝐭𝐬
-----------------------------------------
- Practical experience working in the marketplace. Must have the mindset to do day & night duty in a month. Must have client-handling experience in the marketplace.
- Curiosity and desire to learn and grow skills (This is a must)
- Up-to-date knowledge of design software like Adobe (Figma, XD, Illustrator, Photoshop) and wire-frame tools (e.g. Figma, InVision).
- Specifically in Figma you have to know the design system
- Strong knowledge of typography, color, and other design principles.
- Ability to effectively communicate and persuade around design concepts.
- Good understanding of user experience, and customer/industrial psychology.
- Knowledge of industry standards and best practices for designing both desktop and mobile applications.
- Experience in designing mock-ups and detail-oriented prototypes.
- Portfolio of design projects.
- Proven work experience of at least 2 years as a UI/UX Designer or similar role.
- 𝐌𝐮𝐬𝐭 𝐡𝐚𝐯𝐞 𝐤𝐧𝐨𝐰𝐥𝐞𝐝𝐠𝐞 𝐚𝐧𝐝 𝐞𝐱𝐩𝐞𝐫𝐢𝐞𝐧𝐜𝐞 𝐢𝐧 𝐔𝐈/𝐔𝐗 𝐝𝐞𝐬𝐢𝐠𝐧 𝐟𝐨𝐫 𝐓𝐡𝐞𝐦𝐞𝐟𝐨𝐫𝐞𝐬𝐭 𝐛𝐚𝐬𝐞𝐝.
- English language proficiency.


𝐄𝐦𝐩𝐥𝐨𝐲𝐦𝐞𝐧𝐭 𝐒𝐭𝐚𝐭𝐮𝐬
Full-time
𝐄𝐝𝐮𝐜𝐚𝐭𝐢𝐨𝐧𝐚𝐥 𝐑𝐞𝐪𝐮𝐢𝐫𝐞𝐦𝐞𝐧𝐭𝐬
-Bachelor of Fine Arts (B.F.A) in Graphics or any Bachelor's degree completed
(Educational Qualification will be relaxed for experienced designers)


𝐖𝐨𝐫𝐤𝐩𝐥𝐚𝐜𝐞
Work at office


𝐉𝐨𝐛 𝐋𝐨𝐜𝐚𝐭𝐢𝐨𝐧
Sabujbagh, Dhaka


𝐒𝐚𝐥𝐚𝐫𝐲
Negotiable (Industry Standard)


𝐂𝐨𝐦𝐩𝐞𝐧𝐬𝐚𝐭𝐢𝐨𝐧 & 𝐨𝐭𝐡𝐞𝐫 𝐛𝐞𝐧𝐞𝐟𝐢𝐭𝐬
Salary Review: Yearly
Festival Bonus: 2 (Yearly)
Yearly 20 days leave
According to the company policy


𝐀𝐩𝐩𝐥𝐢𝐜𝐚𝐭𝐢𝐨𝐧 𝐏𝐫𝐨𝐜𝐞𝐬𝐬:-
Send your CV with a photo to email: jobs@gpit.com.bd
Phone: +02-47214044, 01858217450, 01611536464,
*Must Mention job position & your total year of experience in the email body and also must submit your portfolio link carefully